Friday 16th December 2022. A farmer from Newlands asked for help with two sheep that had become crag-fast above Littletown. A small specialist crack unit were deployed from base on Friday afternoon once Adam had finished his housework. A team drone operator had already made contact with the two sheep and attempts to talk them down via the drone speaker failed. They apparently refused to move until their demands for better grass and goretex jackets were met.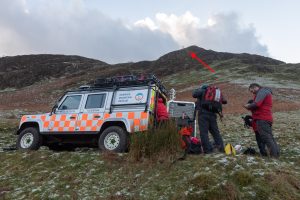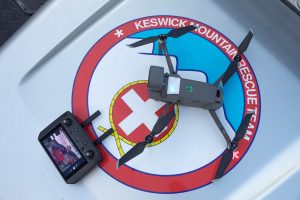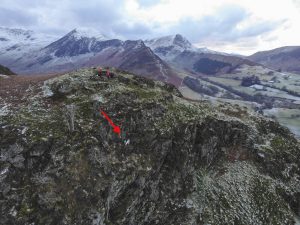 There was nothing for it but to go and 'persuade' them to come down. There being no natural protection on top of the hill long metal spikes were carried up and driven into the ground to allow the team to lower off on ropes. Two team members lowered down, one either side of the sheep to entrap them. The remarkably agile sheep made a brave dash for it but one team member managed to get hold of both. Having seriously underestimated the ovine power of the two youthful sheep, one was left to escape to the far reaches of the ledge system. The captive sheep was equipped with a makeshift harness, attached to a rope and then wrestled, pushed and pulled up the slope to safer ground whence it immediately fell to some well overdue grazing. Night fell rapidly so the team retreated.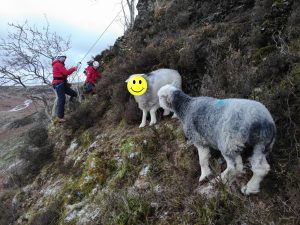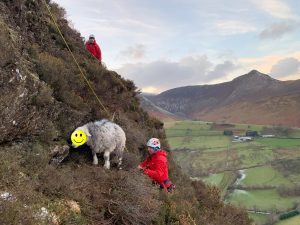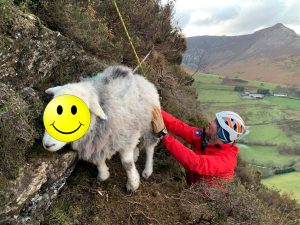 Saturday 17th. For some inexplicable reason some of the original team could not be persuaded to return for a re-match with sheep two so new recruits were brought in. Once again using a speaker on the drone attempts to reason with the sheep failed. The team slogged up the icy hill again, replaced the ground anchors and two team members lowered down. The first attempt was thwarted when the impressively athletic sheep skilfully did a one two manoeuvre leaping sideways on the slope right past one team member.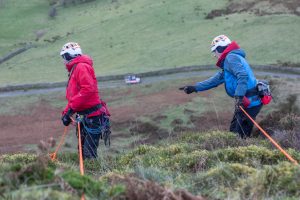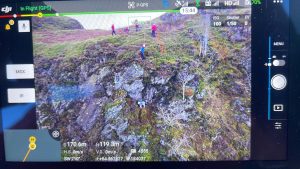 The rescuers were forced to climb back up, replace the ground anchors further across and start again. This time the sheep was cornered against a vertical slope, this should be easy the rescuers thought. 'Not so, watch this losers' said the sheep as it ran up the steep slope before leaping right over the head of the rescuers. The sheep came to rest on a lower terrace smirking at the bewildered hapless two in their smart red Goretex jackets above. Thinking on their feet the two team members called for more rope and chased the sheep down the slope to safety. The end.
8 team members – quite a bit of time – quite a lot of laughs