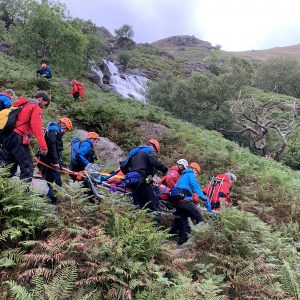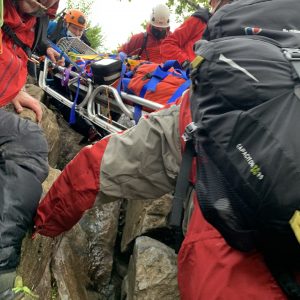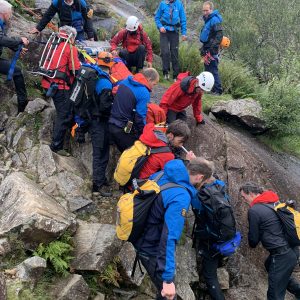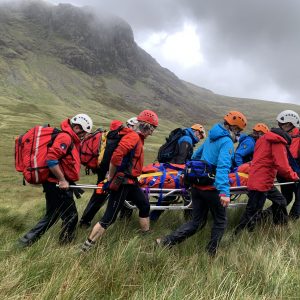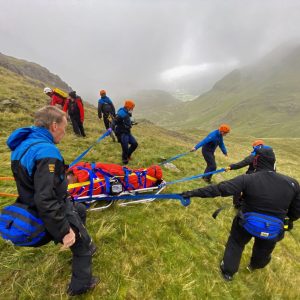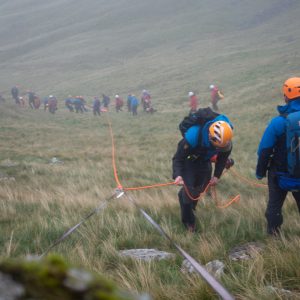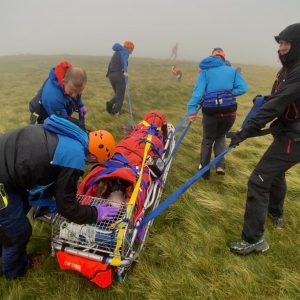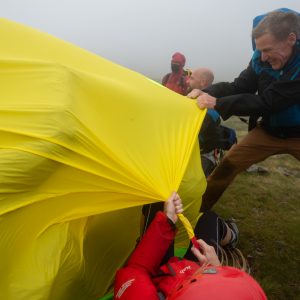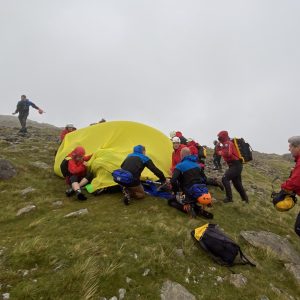 Callout Time: 1:53 pm
Agencies Involved: Cockermouth MRT, Keswick MRT, NWAS
A couple were heading out on a walk from Honister towards Great Gable but as they were ascending the wind was becoming more ferocious. At a point near Brandreth they decided the wind was too strong and they started a retreat back down the hill. Shortly after starting the descent one of the party was blown off her feet and injured her hip and head on some rocks. A call for help was routed through to the Cockermouth team who asked Keswick to support with a stretcher carry. The Coastguard helicopter who attended the earlier lake incident (no.49) went to investigate a possible landing near to the casualty but with low cloud and a strong, gusty wind had to abandon the attempt. Both teams parked on the mine track above Honister and made their way in difficult conditions to the casualty site near to a group of tarns on Gillercomb Head. The casualty was dressed for the conditions, but was getting colder. A storm shelter was used as protection whilst the casualty was treated and pain relief provided. She was then packaged on a stretcher ready for the evacuation. Although returning back to the Honister mine was a shorter route it would have been hazardous due to the strong gusts. A decision was therefore made to sledge the stretcher down some grassy slopes into Gillercomb, and out of the wind. From Gillercomb there was a tricky descent down the path next to Sourmilk Gill to Seathwaite in Borrowdale. Much muscle was involved in manhandling the stretcher down awkward rocky steps but eventually the team made the handover to the ambulance at Seathwaite.
16 Keswick team members – 6 hours 11 minutes.