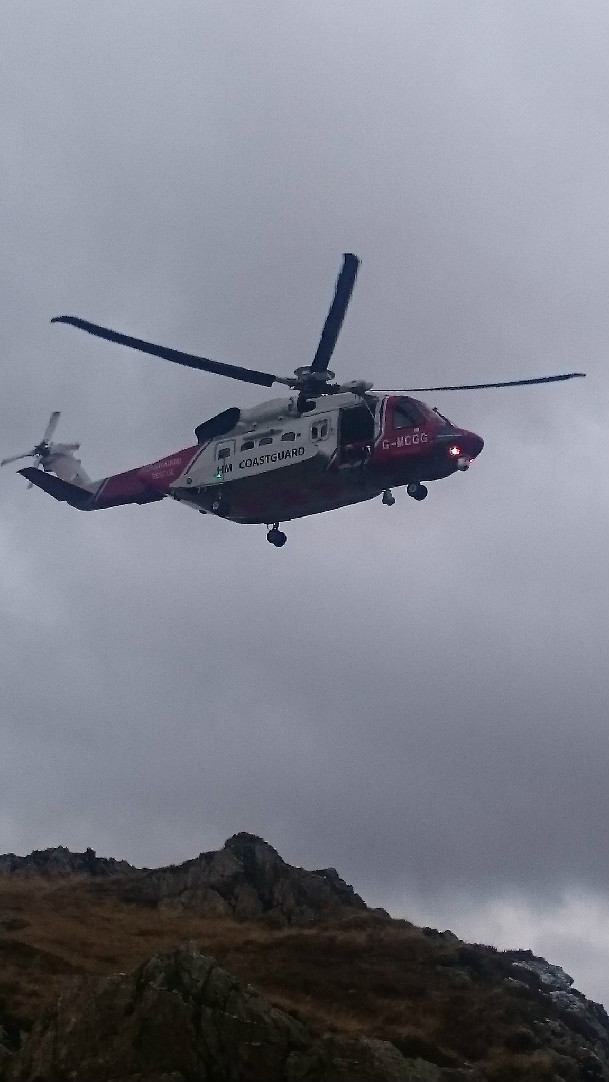 Incident No: 10
Date: 21st February
Time: 19:57
Location: Central Fells
Incident Details: Just as the Team had begun to withdraw after the previous search, a call was received from a  local hotel about a couple overdue from a walk up to Scafell Pike. They had left no details as to their route, but had told the hotel that they would be parking at Seathwaite. Enquiries showed the vehicle still to be there, so the Team then contacted Wasdale MRT that we would be continuing our search patterns for the previous job, and would they continue theirs?  In the meantime, weather conditions had worsened, and visibility was minimal. Further information trickled in about the couple, who were obviously inexperienced, and not particularly well equipped for bad weather. The two teams, assisted by Duddon & Furness MRT covered as much of the ground as possible, but once conditions got to the point where Team members could not stand up in the driving wind and rain, a decision was taken to stand the search down till morning.
At 8 am, 7  Teams were stood up to continue the search, with four search dogs, in much better weather. With the help of the S92 Coastguard helicopter, many were lifted up to high level, and the search continued. After three hours, the couple were found in Eskdale, by a member of Duddon & Furness MRT. They were cold, exhausted and stunned by the ferocity of the weather. They had spent 14 hours in a plastic bivvibag, waiting for daylight & a break in the weather, before trying to walk out. Their bivvibag may well have saved their lives.The S92 flew from Keswick to pick them up, and they were then given hot food and drink to warm them up at Keswick's base. Keswick MRT then arranged transport for them back to their hotel.
The 70+ rescuers in the meantime had walked down to various collection points, and transport was co-ordinated to bring many of them back to Keswick base for soup and sandwiches, provided by our wonderful WI group, who turn out to our biggest jobs to feed and water us. Our thanks to the crew of Rescue 999 from Prestwick, who flew in very testing conditions,  and our neighbouring teams who helped us out.
In total: 22 Team members, 49 members from Penrith, Cockermouth, Kirkby Stephen, Wasdale, Duddon & Furness and Langdale Ambleside teams; 6 search dogs and handlers – 11 hours 16 minutes.