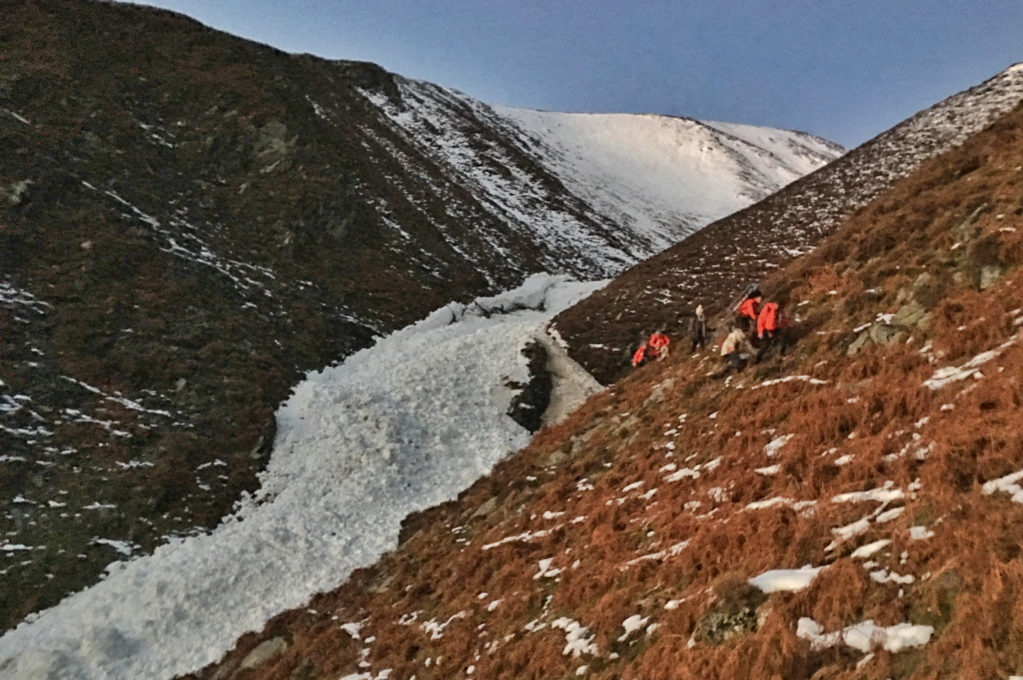 Incident No: 92
Date: 23rd November 2016
Time: 15:14
Location: Skiddaw,  Howgill Tongue
Incident Details:  The Team were alerted by the Police to a group of three young people who had strayed off a path on Skiddaw, and managed to get themselves "completely lost" trying to descend direct towards Keswick. They were cold, one of them had an asthma problem, and they had very little in the way of useful kit with them, as well as a large husky to manage!  Team members had noted during the day that there had been avalanches on the west facing slopes of Skiddaw…..So where, would you imagine, that you don't want folk to be ? Sure enough, when the duty leader had talked to them, and we managed to get a SARLOC fix on where they were, they were within the area that had already avalanched, and still had potential for more. 12 Team members and 3 search dogs set off swiftly for the area above Applethwaite, ensuring that all the party had avalanche transceivers.
Fortunately, the group turned out to be in part of the area that was swept clear of snow, though they were still below a large loose slope, and were visible to the leading group from quite a distance. The second group stood by below while the group were given warm clothing, food, and a set of spikes to assist them in walking down. Once they got moving, the casualties warmed up fairly quickly, and the Team managed to get them off the hill in about an hour. It has to be said that youthful enthusiasm and inexperience, and brilliant weather, had much to do with being in the wrong place, with the wrong clothing and footwear. Advice was, as they say, offered!
16 Team members – 2 hours 16 minutes
Postscript: Overnight, this area has avalanched again, with approximately four times the area of the original avalanches. Large amounts of debris have slid down the gully, to well below the area of the rescue. Lucky they were recovered last night!
Here is a short video of the debris. Don't underestimate the potential for avalanches!