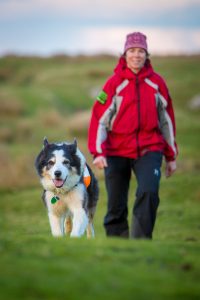 Time flies and it doesn't seem five minutes since I picked up Bracken, a beautiful dark brown fluffy tri-colour collie with a striking white blaze up his face, from a farm at 18 months old. We went for a walk then he jumped into the boot of my car with Mac and Meg, my other two collies, like he belonged there and home he came.
Bracken passed his obedience test in May 2012 and started his search training. Training a new dog is exciting and Bracken was my third trainee search dog. They are all individuals and for me, I needed to learn about him and form a working bond, finding out what drove him and excited him for reward – this was tuggy games with rings and plastic sticks. He was a pleasure to train and work and responded well to encouragement and reward, was eager to please, and so we progressed well through the search training stages, though not without a few hiccups though. We graded as a fully trained search team in July 2014 following a gruelling final assessment that took us from the valley bottom to the summit ridges of the Coniston fells working for nearly five hours though bog, steep scree, crags, boulder fields, steep grass and bracken. From this point on I would work Bracken on his own or as a team with Meg.
In 2015 we travelled to Killarney in southern Ireland with several other Search Dogs from the Lakes to attend the International Congress of Alpine Rescue (ICAR) where Mountain Rescue representatives from all over the world gather to discuss advances in technology, medical treatment, avalanche and wilderness rescue and produce guidelines of best practice that can be used in all countries. We worked with the Irish Search Dogs and met dog handlers from many countries to discuss how we train and learn from each other. We set up demonstrations to show how our dogs searched the ground and indicated back to us when they had found a casualty and took us to them. We were filmed as part of the conference and appeared on Irish TV!
In spring 2016 Bracken suffered a serious leg injury during training while on a strike to a body. His foreleg went down a hole while running and he suffered ligament and bone damage to his wrist.  Being a big, strong and fit dog, he came back to search work following an assessment and attended his first callout in December 2016.
Two days later, on his second search after his return to work he had a find on an elderly diabetic gentleman who had been missing from home since the Friday lunchtime and out for two cold winter nights. Despite the efforts of the Police, Cockermouth Mountain Rescue Team and local people, the gentleman had not been found and the Search Dogs were called in on the Sunday morning to assist. We were searching fields in West Cumbria separated by deep tidal ditches and scrub. It was mid to late afternoon and we had been searching for over 5hrs when Bracken found the gentleman in an area of rough ground in a field that had already been searched earlier that day. Bracken was out of sight so I couldn't see the gentleman until Bracken barked and I saw the flash of his orange jacket and ran towards him and then I could see a figure lying on the ground along the bottom of the fence and under some vegetation. As I approached, he moved and raised his arm, he was amazingly alive though severely hypothermic and was flown to hospital in the air ambulance.
It is hard to describe the emotions when your dog finds a missing person, it doesn't feel quite real at the time and the adrenaline is rushing as you assess the casualty whilst getting on the radio to get information out about location and condition for assistance, then treating the casualty the best you can until more people and equipment arrive along with the medics. After the casualty had been evacuated, there was Bracken sitting, temporarily forgotten in amongst the contents of my rucksack that was dispersed in a hurry to find thermal blankets and a shelter to protect the casualty. He then had a play and a fuss and lots of people telling him what a good boy he was. I was very proud of him for a job well done and that all that training had finally paid off.
Although not as long a career as some search dogs, Bracken is now nearly 12 and has been a member of Keswick MRT and a graded Search Dog for 6 ½ years, attending nearly 50 search callouts and accompanying the team on many more, which, considering his time out for injury is an effort to be proud of and of course his find. He has been a pleasure to work and be on the hill with, typically, we are out in the worst weather conditions when searching. We have been in boats and he has been featured on the Coastguard website pictured being winched into the helicopter wearing his 'doggles'.
He is the cover for our Friends Supporters' leaflets and appeared in Cumbria Life Magazine and other various news articles along with fellow search teams.
He is my best friend and companion and through COVID he has been my anchor and got me though the low points with his constant affection and companionship, playfulness and happy disposition. I cannot fail to smile at his beautiful fluffy face and the expressions and looks he gives me and can't believe how fast time has gone. He now deserves his rest and to stay in the warm when the pager goes off, though I know he would always rather be out with me.
Thank you Bracken.