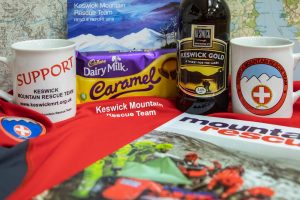 Who in their right minds would give up chocolate, crisps, sweets AND cake for a whole month? How about giving up beer for a month? There would have to be a pretty good reason no? But this is exactly what two extraordinary people have done in order to help Keswick Mountain Rescue Team.
Mountain rescue volunteers get called out for many reasons; anyone can have an accident or get sick. Team members drop whatever they are doing to race out and offer assistance and folk are usually very pleased to see them. Surprisingly often people don't realise the team is not only 100% voluntary but also runs purely on donations. We are often asked how people can help the team. Beyond simple donations some go to extremes to show their appreciation such as giving up beer or chocolate. Below are some more unusual ways people have helped.
Sponsored physical challenges, especially running, are a popular way to raise funds. One fell runner ran up 30 Wainwrights on his 30th birthday with friends to help the team after he was rescued during a fell race. Another completed 10 challenges for his 50th birthday. There have been numerous London Marathon runners raising funds for the Team as well as the Manchester Marathon, the National 3 peaks, the Bob Graham Round, Wainwright and Munro rounds or simply walking around Derwentwater with the family and friends in memory of someone who loved the fells but never needed rescuing.
Many guest houses and hotels have collection boxes but one local guest house went a step further and raised £510 by adding an optional £1 donation on their invoices to guests of whom almost all were willing to contribute. Some of their guests also paid an extra 50p for the guest house owner's amazing flapjack recipe.
One family set up a crown green bowls competition in memory of their father who loved the fells. Another held a fundraising spinathon, an endurance event on stationary bikes with people aiming to do a certain distance or pedal for a certain time. One lady set up a Terracycle account to raise funds from recycled materials. Another had a sponsored film night. One amazing couple asked for donations to Keswick MRT instead of presents at their wedding. Keswick were a chosen charity on an advent calendar and a local pub gave a proportion of their whisky sales to the team. A father and son baked and decorated cakes to sell at school after the boy was rescued when he fell off his mountain bike.
The generosity of people knows no bounds, as do the methods employed to raise funds. The donations we receive are essential for equipping and training our team and maintaining our base, vehicles and equipment. No matter how it is raised (assuming it is legal!), all donations are very gratefully received.