In February 2023 winter training returned to the team after an enforced break due to Covid. In previous years we have mostly visited Chamonix for its usually reliable winter conditions, albeit being mostly reliant on cable car access. This year, after considerable research into possible venues, we decided to try something different by travelling to Lofoten in Norway which in theory would provide us with a winter 'playground' where we could practice the skills that should be second nature to rescuers in winter in the Lakes.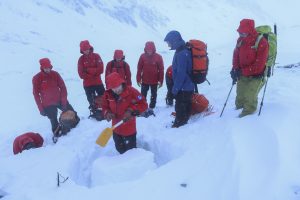 We were hosted by a local mountain guide who is one of the trainers of the Norwegian Mountain Rescue. The days would start with some theory in the classroom followed by practical sessions in the local mountains. The Lofoten Isles are located a few hundred kilometres north of the Arctic Circle but protrude out into the north Atlantic and catch the warming influence of the Gulf stream. Prior to our arrival the islands had been wet, windy and relatively mild but winter returned just in time for our arrival and we enjoyed perfect conditions and realistically what we might expect during a good winter back in the Lakes.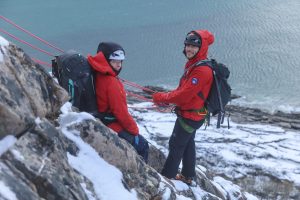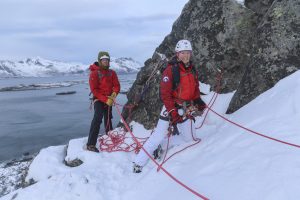 On subsequent days we would practice the various skills that may be required during a winter rescue like safe movement on steep rocky, snowy and icy ground, route choice in hazardous terrain, avalanche awareness, transceiver use as well as location and retrieval of an avalanche victim. Formal classroom sessions were kept to a minimum in order to maximise our time amongst the superb conditions and terrain. Many team members do not have much or any winter climbing experience so just moving around safely in this Arctic landscape is valuable experience. The fact that the surroundings are utterly beautiful means the experience will not be forgotten easily.