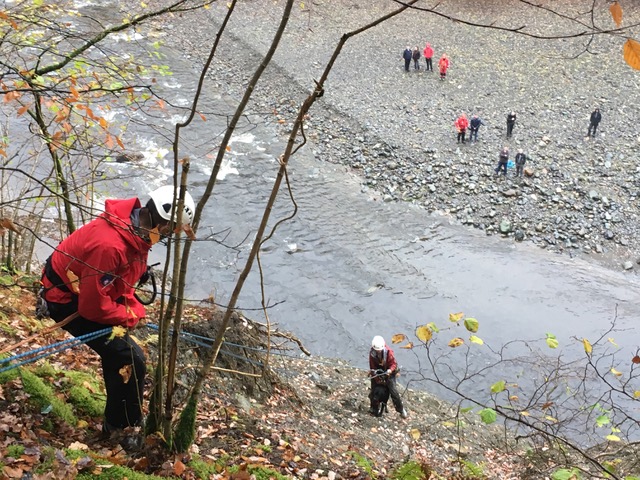 Incident No: 90
Date: 14th November 2016
Time: 11:15
Location: Greta Gorge
Incident Details: A lady walking a black Labrador bitch, Callie, lost her in the woods, above the area of the Greta Gorge where there have been significant landslides. The dog had slipped over the edge of the landslipped area, but had landed in a tiny scoop in a gully about 12 metres above the fast flowing Greta below. It took some time for the handler to locate the dog, but as soon as the alarm was raised, the Team responded swiftly to its second rope rigging rescue of the week. A National Park Ranger suggested the best point of access. One of the Team's search dog handlers took a harness and some treats, and was then lowered about 30m from the trees above the site. She was able to harness the dog, which was, shall we say, well built – and then the Team members above rigged a 3 to 1 pulley system, and pulled her and Callie to the top. Once on safe ground, Callie was much happier, and was able to be walked off to the A66, where she was reunited with a grateful owner. The Team returned to base with another load of wet ropes and kit to be dried out and repacked.
7 Team members  – 1 hour 32 minutes.