Mountain rescue stretchers have evolved over the years. The upper photograph shows an early Thomas stretcher which was the standard rescue stretcher since the beginnings of UK mountain rescue. Keswick MRT have always used derivatives of this original design, much preferring the simplicity of these over other alternatives available both then and now. Previous improvements included splitting into two halves to aid portability.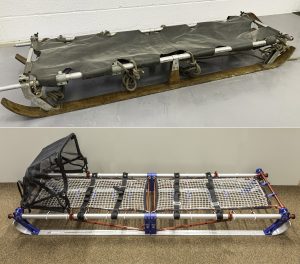 Around 2010 the existing Keswick team stretchers were approaching the end of their usable life and with no suitable alternatives available that exactly fitted our requirements the team decided to have new stretchers purposely designed and fabricated. The design brief included a strong lightweight stretcher suitable for all situations; easy to put the two halves together including whilst wearing gloves, in the dark and in blizzards; easy to connect to ropes for crag rescues; suitable for helicopter winching; properly designed and tested.
This isn't fair on those involved who deserve recognition but, for brevity:
Fast forward 11 years and the very very long process of development involving many team members and world-leading experts in mountain rescue equipment technology is now complete. After numerous design iterations and rigorous testing of three prototypes the result, produced by a specialist fabricator in Canada, is a lightweight, strong, fully certified stretcher that performs with excellence in all applications.